Hobby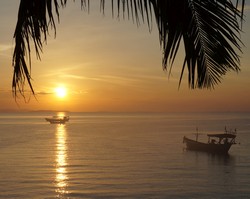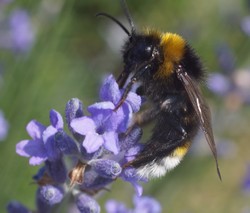 Travelling and Photography
Travelling
As a German, I have an inborn drive to explore the world. So far I've been to the following European countries: France, Poland, Spain (incl. Canary Islands), Italy, Austria, Switzerland, the Netherlands, Sweden, Norway, England, Cyprus, Greece and Croatia. Outside Europe, the list is far shorter: Egypt, Japan, Mexico, Australia, Canada, Chile, Argentina, Cambodia.
For some of the more interesting trips, I now create photographic diaries with route information to be displayed in Google Earth (German language only):
But eventually I found that it took up too much time that I'd rather spend on enjoying the travel experience!

Sports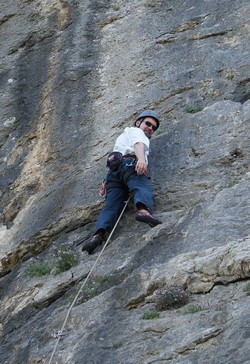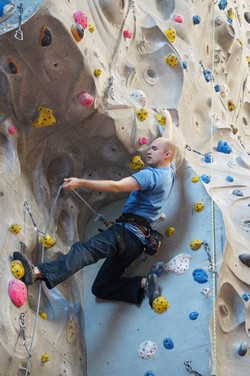 For some time now I've become an avid sport climber. The special thing about it is the wide range of difficulties which allows anyone to continously find and push their limit, and the total concentration you can achieve.
I also love hiking in the mountains, but even from Munich that takes some time (especially when you don't have a car), so I do it only occasionally.

Books
Reading is one of my favourite pastimes, and I read mostly science fiction and fantasy - why constrain yourself to current or historical scenarios when you're in the fictional realm anyway? In my opinion, some of the greates creative potentials and best literary products are found in this field that's so often dismissed unfairly as inferior. Some of my favourite authors are:
C.J. Cherryh
Terry Pratchett
Robert Jordan
William Gibson
Douglas Adams
Anime and Manga
Japanese comics and animated films were my greatest passion for a long time, which shows in my hobby websites (see below). This is how I came to learn Japanese and got the chance to study in Japan for a year. However, this passion has decreased lately.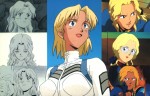 My first website, which I used to teach myself HTML. It's a "shrine" for the character Elektra in the anime series "Secret of Blue Water". Besides information about the series and the character, there's also an image gallery.
The site was originally made on an Amiga home computer at a time when only tech geeks had internet connections, and the anime (VHS, DVD was yet to come) and manga available in the west could almost be counted on your fingers.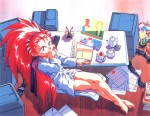 For a while, I spent a lot of time reading anime fanfiction and started writing reviews of Tenchi Muyo fanfictions. I even had the goal to review all Tenchi fanfictions in existence. At the time, that was not unrealistic, but soon after, they started becoming very popular.
Later I build the review site into a real community using a database - unfortunately Tenchi Muyo's popularity was decreasing by that time, so the community became quiet and then died. So I've been generally unlucky when it comes to timing, but I did gain a lot of experience concerning literary analysis and dynamic webpages.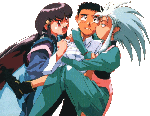 Of course I also wrote a few fanfictions. Despite being German, I wrote them in English since the German fanfiction scene was non-existant at that time.

Comments
Spoke n Prong
2017-06-12, 00:48
I LIKE TERRY PRATCHETT TOO! ! !

Have you seen Game of Thrones? Let's discuss.
dark
2014-03-12, 08:16
nice page.
Elecktra's Fan
2012-05-29, 23:47
Vielen dank fuer die Elektrasite! Ich bin ein Elektra-fan fuer 20 jahre und ich bin so gluecklish seine site zu sehe!

Danke Danke!
Talis
2010-03-21, 19:34
Nice work on Nadia series - careful analysis and deep thinking. It's hard to believe that someone out there finds time, energy and enthusiasm to make a site based on such a rare and deep story. I'm pleased to find that there are people who see the whole scope of that story.
By the way, you may think of learning Russian. I guess it's hard to learn but easy to speak. Since you handled Japanese it should be easy and interesting.
brazzy
2009-07-23, 07:58
Sorry, I don't speak Russian...
bazist
2009-07-22, 23:20
Народ где можно нарыть безплатные диски в столице ?
brazzy
2009-07-18, 15:07
Yes? Any questions?
Seefaudge
2009-07-18, 15:04
someone?
Heibritle
2009-07-12, 02:44
Great job admins! I like your theme! Keep up doing good work!